Well, here's a little pic of what I've done so far since my last post.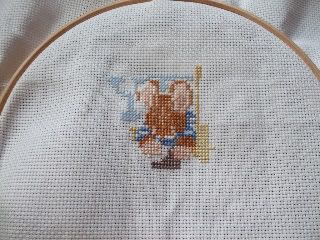 It's not bad considering I was on a training course for most of Monday, and have had a bad back since then, it's made it quite difficult to stitch sometimes. Thankfully popping a couple of anadin and getting some of those heat packs you stick on your skin seem to have worked wonders, I don't feel quite so much like the Tin Man as I did this morning!!
One thing I didn't realise when I began stitching this piece was how many light colours there were and how close the shades are. This can make it awkward when it's a soap night and I want to stitch in front of the television but can't tell which colour is which!! I would love to invest in a daylight lamp but they are very expensive!! for now I've pinched a lamp from the bedroom and I'm using that with the shade off, it's better than nothing!!
Had to nip in to work today for a training session, when I got there I realised that I wasn't even put down on it, on account of me being on holiday, but decided to sit in anyway cos it was useful, so that was three hours stitching lost.
I'm intending to have a good stab at it tomorrow, I seem to have spent the last few days here there and everywhere!! Haven't quite found the brakes yet I don't think.